Yes! Right on schedule: the third volume of the Work-at-Home Blog Carnival…and a Blessed, Prosperous New Year to y'all! I hope you've had a peaceful and fun time celebrating the Yuletide holidays with your family and loved ones.
It's 2013! Another year, another fresh start. I'm betting that you've all got your Goals for 2013 written down, your Action Plans outlined, and your Rewards To Self drafted. Not to mention a set of New Year's Blogging Resolutions, heh.
Good for you because I'm still in the process of completing my 5 Doable Must-Do Things To Achieve This 2013. I know, it's a measly 5-item list…what's so difficult about it? More than you can imagine when you're trying to prioritize the "most desirable" from the "no worries" stuff, heh.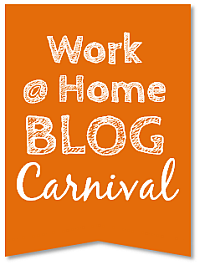 Anyways, my sincerest thanks to those who participated in this month's blog carnival. Overall, you were all good boys and girls, selecting categories and providing brief summaries to your submissions. (Cue enthusiastic clapping from the Maven.)
There were still some stragglers but you could count them in one hand. Much as it pained me, I had to set aside these submissions. To those who didn't find their stories included, please check if yours is within the ambit of this blog carnival. Otherwise, your effort would've been in vain.
Volume 4 of the Work-at-Home Blog Carnival
will go live on
February 4, 2013
. Happy reading!
Blogging & Writing
Biz Tips on
Top Ten Sizzling Ways to Improve Your Ad Copy
: Ad Copy needs to be insightful and respectful of its audience without sounding trite. While there's no one way of writing copy correctly, there are some general tips that can help you sharpen your advertising.
Brandon Yawa on
2000 Page Views in 2 Months
: A blogger's "ground-floor" guide to building a successful blog from scratch.
Chief Dodo on
See How Easily You Can Get More Traffic with 6 Simple Steps
: An article highlighting 6 steps to increasing traffic to any blog/website.
Kerin Gedge on
Pimp My Hundred Bucks - Part Ten
: The continuing saga of how I am turning $100 into $500 using wit, patience and the Internet.
And again, Kerin Gedge on
Pimp My Hundred Bucks - Part Twelve or The End is Nigh
: Here is the continuing saga of my efforts to turn $100 into $500, now past the half way mark. How much longer can this take?
Business, Career & Freelancing
Bill Smith on
How to Track Down Debtors Around the World
: It is becoming less and less common for businesses to know their customers personally, especially if those customers live on a different continent.
Again, Bill Smith on
Making Money with ShareCash
: I joined Sharecash just two months ago because I wanted to know what Sharecash was all about.
John Schmoll on
Taking the Plunge is Not Just for Polar Bears, Part 1
: Taking the plunge into self-employment is not for everyone, nor is it a decision that should be made lightly. If you have an entrepreneurial spirit, then running your own business just might be for you.
Katherine H on
Make Money Online
: Legitimate online jobs for freelancers.
Marketing
Biz Tips on
10 Surefire Ways to Intensify Your Sales
: One of the most important activities of any business is to constantly find ways to increase sales. Even when companies are achieving record sales, they must prepare their sales pipeline and their sales strategies for future growth.
David Leonhardt on
What Marketing Experience Means
: Experience does not mean you know everything. It does, however, mean that you have a pretty good idea where to look and how to evaluate what you find.
Lifestyle & Inspiration
Jenny on
New Year, New You, New New New
: This is an article I wrote about succeeding in your New Year's resolutions, particularly in your personal endeavors. It's meant to be a tool to help people organize their goals and dreams, and to put achieving them into action.
Jones Hailey on
30 Blogs on Keeping Kids Safe Online
: Keeping kids safe online is a multi-faceted task. You need to make sure the security on your computer is adequate. Then you will need to set some parental controls on the computer.
Social Media & SEO
Matt Schoenherr on
Dispelling 7 Common SEO Myths
: These methods need to be handled responsibly and maturely, otherwise you risk rebuke by the Internet community. Strive to provide value in whatever you post and you go a long way toward keeping your reputation in good standing.